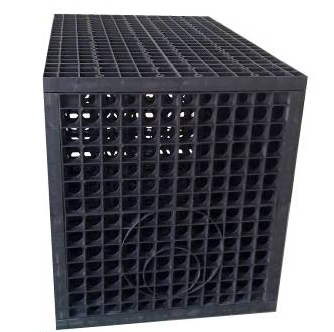 The HIDROBOX cell born from the double experience of Hidrostank in both the plastic injection as the collaboration in rainwater and sewage projects.
The HIDROBOX is a geocellular modular plastic system of high strength that allows implementing elements for rainwater harvesting, accumulation and underground transport in a modular and simple way. With a very simple and manual assembly, the HIDROBOX supports various configurations depending on the required strength.
Its modularity provides greater flexibility during the design of the project and allows the installation of any configuration depending on the available area (tailored designed). They can also be configured to allow traffic loads (can be installed under roads and car parks) as well as less demanding applications such as parks or pedestrian areas.
HIDROBOX cells are a very interesting alternative as present the following technical characteristics:
Large volume per cell (95% void ratio versus 20% of gravel).
High resistance to compression (breaking load of up to 790 KN/m2).
Quick and easy installation: manual handling, without machinery.
Modularity: allows tailored dimensioning for each project.
Ecological: 100% recycled and recyclable.
Easy transport and storage, as shipped disassembled. Can be inspected easily with a push-rod camera.
Economics: minimizing excavation, labor, machinery…
| | | | | | | | | | | | |
| --- | --- | --- | --- | --- | --- | --- | --- | --- | --- | --- | --- |
| HIDRO- BOX | HI001 | HI002 | Length (m) | Width (m) | Height (m) | Volume / Cell (m3) | Cells/ m3 | Weight (kg) | V Retention (m3) | Cells/ m3 | Porosity |
| 1.1 | 4 | 3 | 0,728 | 0,445 | 0,495 | 0,1604 | 6,24 | 11,85 | 0,1509 | 6,63 | 94% |
| 2.1 | 7 | 6 | 0,728 | 0,445 | 0,966 | 0,3129 | 3,20 | 21,63 | 0,2956 | 3,38 | 94% |
| 3.1 | 10 | 9 | 0,728 | 0,445 | 1,437 | 0,4655 | 2,15 | 31,41 | 0,4404 | 2,27 | 95% |
| 4.1 | 13 | 12 | 0,728 | 0,445 | 1,908 | 0,6181 | 1,62 | 41,19 | 0,5852 | 1,71 | 95% |
| 5.1 | 16 | 15 | 0,728 | 0,445 | 2,379 | 0,7707 | 1,30 | 50,97 | 0,7299 | 1,37 | 95% |
HI001: 728X445 mm lateral
HI002: 445x401mm partition